The Zaku II Kai or Zaku II Fz is a Zaku used by the Cyclops Team in Gundam War in a Pocket. This unit is  what Bernard Wiseman used in the OVA. It is a upgraded Zaku II with more firepower and speed in exchange for less armor. 
In game, the Zaku II Kai differs from the Zaku II Kai (B-Type) in both it's head shape and secondary weapon. The Zaku II Kai equips a new-type of grenade while the (B-Type) uses a sturmfaust. While doing less damage, the normal Zaku II Kai's grenades deploy and reload far faster and so can be used to great effect. Combine the grenades with a bazooka for stuns and enemy MS will fall rapidly. Other than that, the Zaku II Kai plays identically to the (B-type). (Let it also be noted that the normal Kai's grenades do not stagger friendly MS when misfired) 
The Zaku II Kai's pre-game lobby icon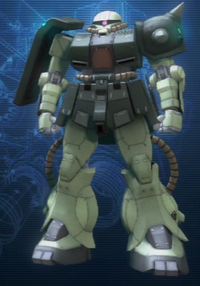 is a blue Zaku head with the letters "FZ" in the bottom-left corner.
Mobile Suit Level Stats
Edit
| | LV1 | LV2 | LV3 | LV4 | LV5 | LV6 | LV7 |
| --- | --- | --- | --- | --- | --- | --- | --- |
| EXP | 125 | 145 | 165 | 185 | 205 | 225 | 245 |
| HP | 8000 | 8500 | 9000 | 9500 | 10000 | 10500 | 11000 |
| Bullet DEF | 34 | 42 | 51 | 59 | 68 | 76 | 84 |
| Beam DEF | 34 | 42 | 51 | 59 | 68 | 76 | 84 |
| Melee DEF | 31 | 40 | 48 | 56 | 65 | 73 | 82 |
| Range ATK | 47 | 49 | 52 | 54 | 57 | 60 | 69 |
| Melee ATK | 34 | 37 | 40 | 41 | 44 | 47 | 49 |
| Move Speed | 185 | 185 | 185 | 185 | 185 | 185 | 185 |
| Thrusters | 110 | 112 | 114 | 116 | 118 | 120 | 122 |
| Req. Rank | | | | | | | |
| Rarity | | | | | | | 0 Star |
| Dev. Rate | | | | | | | 3% |
| Dev. Cost | | | | | | 28500P | 35100P |
| Respawn | | | | | | | |
| | LV1 | LV2 | LV3 | LV4 | LV5 | LV6 | LV7 |
| --- | --- | --- | --- | --- | --- | --- | --- |
| Melee | 10 | 11 | 12 | 13 | 18 | 20 | 22 |
| Mid | 10 | 11 | 12 | 13 | 18 | 20 | 22 |
| Long | 6 | 7 | 8 | 9 | 14 | 16 | 18 |
| | LV | DMG | Fire Rate | Ammo | Reload Speed | Range | Blast Radius | Shield Modifier | Base Modifier | Note | Dev. Cost |
| --- | --- | --- | --- | --- | --- | --- | --- | --- | --- | --- | --- |
| | | | | | | | | | | | |
| | | | | | | | | | | | |
| | | | | | | | | | | | |
| | LV | DMG | Fire Rate | Ammo | Reload Speed | Range | Blast Radius | Shield Modifier | Base Modifier | Note |
| --- | --- | --- | --- | --- | --- | --- | --- | --- | --- | --- |
| | | | | | | | | | | |
| | | | | | | | | | | |