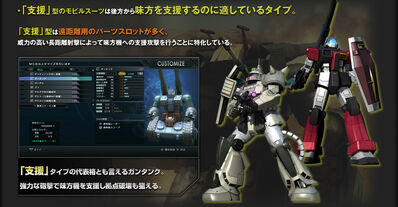 Yellow/Artillery Types are mostly the long range MS that are armed with either snipers, Cannons, A mix between Beam Rifles or Machine Guns, and contain their own weapons. However, Support Types have either little to NO melee capabilities as some of the support units are not even armed with melee weapons. Easily Making them sitting ducks against Red/Close-Combat MS.
Federation
Edit
Ad blocker interference detected!
Wikia is a free-to-use site that makes money from advertising. We have a modified experience for viewers using ad blockers

Wikia is not accessible if you've made further modifications. Remove the custom ad blocker rule(s) and the page will load as expected.