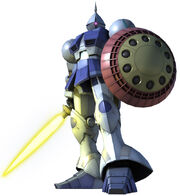 The YMS-15 Gyan is a prototype close combat mobile suit developed by Zimmand Company to compete against Zeonic Company's MS-14 Gelgoog series to become the next generation mainstay mobile suit used by the Zeon Forces near the very end of the One Year War. The Gyan was meant to fight alongside Zimmand's highly popular Doms and Rick-Doms, which would provide ranged support for the Gyan as it engaged in close combat. Though the Gelgoog won out in the end due to it's versatility, at least three prototype Gyans were constructed. One of them was piloted by Captain M'Quve, the right hand-man of Kycilia Zabi, and he used it in an attempted one-on-one duel with the RX-78-2 Gundam piloted by the young Newtype, Amuro Ray (Mobile Suit Gundam)
The Gyan is one of the most powerful melee mobile suits currently in the game, if not the most powerful overall. The Needle Missile Launcher in it's shield are comparable in power and function to the Guncannon SML's Spray Missile Launchers and The Zaku Cannon Rabbit Ear's 2-tube Rocket Launcher, and may also "half-stun" whatever mobile suits they connect with like the aforementioned weapons. The Gyan's Hide Bombs are a strange and unique weapon. As they are deployed, they move forward slowly for a fixed period of time or until they hit a surface, at which point, they explode, causing damage comparable to a Sturm Faust. Due to their nature and use, some have dubbed the Hide Bombs as "airbourne land mines". As the Gyan is a Melee Suit though, its strongest weapon is its beam sword, whose destructive power surpasses the Iron Nails of the Z'Gok E by a sizable amount (the LV1 Beam Sword's damage is listed at 2700, LV1 Z'Gok E's Iron Nails are listed at 2150). Unfortunately, as the sword is the Gyan's greatest strength, it is also its largest weakness. The Gyan attacks using a fencing style, made up of mostly stabs, and while they are faster to do than ordinary slashes, they have a much, much narrower attack area by comparison, to the point that the sword may only hit what is DIRECTLY in front of the Gyan. The Gyan does have an upward slash that has a wider attack area than the rest of its attacks, but not by much. This reason, coupled with the Gyan's high bounty, is why many players who have Gyans prefer to stick with Z'Gok Es or Goufs as their main Melee suits. Nevertheless, whenever a Gyan is encountered, it is still best not to take it lightly.
Level Variations
Edit
Level
Bounty

Respawn

Time

HP

Bullet

Resistance

Beam

Resistance

Melee

Resistance

Range

Combat

Power

Melee

Combat

Power

Speed
Boosters

Melee

Slots

Balance

Slots

Ranged

Slots

Rank/Level

Requirment

Rarity

Development Cost

1
300
21 seconds
10000
54
54
76
34
92
260
105
7
4
3
Sergeant 01* Event
2-Star
17800P
2
325
22 seconds
10500
59
59
104
34
96
260
107
8
5
4
Lieutenant 01
2-Star
26700P
3
350
24 seconds
11000
65
65
132
34
100
260
109
9
6
5
Captain 03
2-Star
32000P
4
375
26 seconds
11500
70
70
160
34
104
260
111
10
7
6
Major 04
2-Star
33900P
5
400
28 seconds
12000
76
76
188
34
108
260
113
20
12
7
Lieutenant Colonel 04
2-Star
JPY300
6
425
29 seconds
12500
82
82
216
34
112
260
115
22
14
9
Colenol 03
2-Star
69900P
Main Weapons
Edit
| English Name | Japanese Name | Projectile type | Comments |
| --- | --- | --- | --- |
| Needle Missile Launcher Shield | | Ballistic | Unlike the Gouf Custom's Gatling Shield, the Gyan's missile shield has no defensive purpose in GBO |
Sub-Weapons
Edit
| English Name | Japanese Name | Projectile type | Comments |
| --- | --- | --- | --- |
| Hide Bombs | | Ballistic | Will float for a fixed period of time, or until a MS connects with them before exploding. Levels with Needle Missile Launcher Shield. |
| Beam Sword | | Melee | The Gyan attacks with a fencing style, meaning that this sword has a very narrow attack area. |
Abilitiies
Edit
| English Name | Japanese Name | Unit level | Effects |
| --- | --- | --- | --- |
| Leg Shock Absorber | 脚部ショックアブソーバー | LV2 (MS LV1-5) LV3(MS LV6) | Reduces leg load after jumping/ dashing |
| Hovering Dash | ホバリングダッシュ | LV2 (MS LV1-5) LV3 (MS LV6) | Increases thruster duration |
| Emergency Avoidance Control | 緊急回避制御 | LV1 | Can execute an emergency maneuver by hitting X twice. |
| Melee Controller | 格闘連撃制御 | LV2 | Ups the number of melee hits possible. |
| Frontline Maintenance Support System | 前線維持支援システム | N/A | In addition to the Quick Boost and High Performance Balancer composite skills, this skill reduces the entire team's respawn time. |
Tips and Strategies
Edit
Ad blocker interference detected!
Wikia is a free-to-use site that makes money from advertising. We have a modified experience for viewers using ad blockers

Wikia is not accessible if you've made further modifications. Remove the custom ad blocker rule(s) and the page will load as expected.