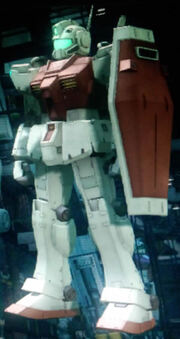 The GM Kai ( ジム改), also known as the GM Type C, is a major upgrade to the basic GM unit. It boasts improved HP, Range ATK, and Move Speed, but has weaker Melee ATK and six fewer Custom Parts Slots. In the pre-game lobby, its icon is a blue GM Kai head with the letter "C" in the bottom left corner.
Players should have the basic GM at LV3 by the time this unit is first ready for development. In a side by side comparison the basic GM LV3 has equal HP, better DEF, and a total of 12 more Custom Parts Slots. The GM Kai maintains a speed advantage, and is more agile due to Leg Shock Absorber LV2 and the addition of Quick Boost.
The GM Kai can equip the Hyper Bazooka, Beam Spray Gun, and 90mm Machine Gun, but not the 100mm Machine Gun. However, it can use the 2 Barrel Beam Gun which, like the GM Kai, may start to develop at CPL Rank.
Mobile Suit Level Stats
Edit
| | LV1 | LV2 | LV3 | LV4 | LV5 | LV6 | LV7 |
| --- | --- | --- | --- | --- | --- | --- | --- |
| EXP | 125 | 145 | 165 | 185 | 205 | 225 | 245 |
| HP | 7500 | 8000 | 8500 | 9000 | 9500 | 10000 | 10500 |
| Bullet DEF | 39 | 45 | 54 | 62 | 70 | 79 | 87 |
| Beam DEF | 37 | 45 | 54 | 62 | 70 | 79 | 87 |
| Melee DEF | 31 | 40 | 48 | 56 | 65 | 73 | 82 |
| Range ATK | 53 | 56 | 58 | 61 | 63 | 66 | 69 |
| Melee ATK | 34 | 37 | 40 | 41 | 44 | 47 | 49 |
| Move Speed | 185 | 185 | 185 | 185 | 185 | 185 | 185 |
| Thrusters | 115 | 117 | 119 | 121 | 123 | 125 | 127 |
| Required Rank | CPL | CPL | SGT10 | SGM08 | ENS09 | LT09 | |
| Rarity | No Star | No Star | No Star | No Star | No Star | No Star | |
| Dev. Rate | 10% | 10% | 8% | 6% | 6% | 4% | 3% |
| Dev. Points | 10,000P | 12,800P | 16,800P | 18,500P | JPY300 | 28,500P | 35100P |
| Respawn | ??s | 12s | ??s | ??s | ??s | ??s | |
| | LV1 | LV2 | LV3 | LV4 | LV5 | LV6 | LV7 |
| --- | --- | --- | --- | --- | --- | --- | --- |
| Shield | 2000HP | 2100HP | 2200HP | 2500HP | 2600HP | 2700HP | 2800HP |
| | LV1 | LV2 | LV3 | LV4 | LV5 | LV6 | LV7 |
| --- | --- | --- | --- | --- | --- | --- | --- |
| Melee | 8 | 9 | 10 | 11 | 16 | 18 | 20 |
| Middle | 10 | 11 | 12 | 13 | 18 | 20 | 22 |
| Long | 8 | 9 | 10 | 11 | 16 | 18 | 20 |
Main Weapons
Edit
LV
Damage

Firing

Rate

Ammo

Reload

Speed

Range

Blast

Radius

Shield

Offset

Base

Offset

Note

Dev.

Price

1
1000
4.7s
12
13s
300m
13m
0.9x
0.8x
-
2400P
1
650
-
-
-
350m
-
-
-
-
11700P
Beam Spray Gun
1
500
-
-
-
300
-
-
-
-
Default weapon for GM Light Armor and GM Cannon
90mm Machine Gun
1
105
300 RPM
80
6s
200m
-
-
-
525 DPS
2800P
| | MS LV | Description |
| --- | --- | --- |
| Leg Shock Absorber LV2 | 1~ | Take 10% less temporary leg damage after jumping; 5% less after dashing. Temporary leg damage heals 1% faster. |
| Hover Dash LV1 | 1~ | Keep thrusters active for 1.16s longer. |
| Quick Boost | 1~ | Reduce the charge time for jumping. |