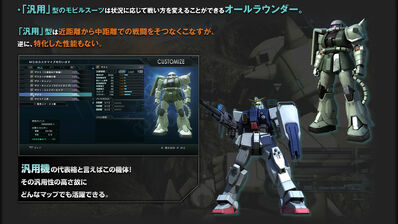 The "Balance" type mobile suits are general purpose units capable of taking on any type of role. They are equipped with both ranged and melee weapons. Most of them can carry some type of rocket-propelled genade launcher, in addition to heavy machine guns and beam rifles. Their pre-game lobby icons are always colored blue.
Balance-type mobile suits are given a damage bonus when attacking Melee-types, but take increased damage from Support-types. Since Support mobile suits have high-powered weapons that can attack from long range, it is important for Balance pilots to not overheat their thrusters too often or stand still for extended periods of time.
Federation
Edit
Ad blocker interference detected!
Wikia is a free-to-use site that makes money from advertising. We have a modified experience for viewers using ad blockers

Wikia is not accessible if you've made further modifications. Remove the custom ad blocker rule(s) and the page will load as expected.